Vending Software Features
In-depth reporting
VendSoft saves you time and reduces uncertainty by helping you to make informed data-driven decisions. You can finally get rid of those complicated Excel spreadsheets. See at a glance how your vending business is performing on the Dashboard – revenue and profit, top-selling products, and scheduled servicing.
Locations
See at a glance all the locations where you've distributed machines. Easily add, edit and delete locations. Each location entry stores information about its address, assigned commission and taxes, number of machines available and gives you the ability to add more machines and define how often they need to be serviced.
Route Management

Easily assign locations to different routes owned by your drivers. depending on the geographical distribution, drivers' workload or else.

Route Optimization

VendSoft helps you to calculate the quickest route to your vending machine locations, estimating the trip distance and the total travel time.

Tailored pre-kitting

VendSoft helps you maximize sales turnover by carefully analyzing the exact product mix you need at each location. Knowing the exact product quantities each machine needs to be replenished with will help you load delivery trucks more efficiently saving you precious time and efforts.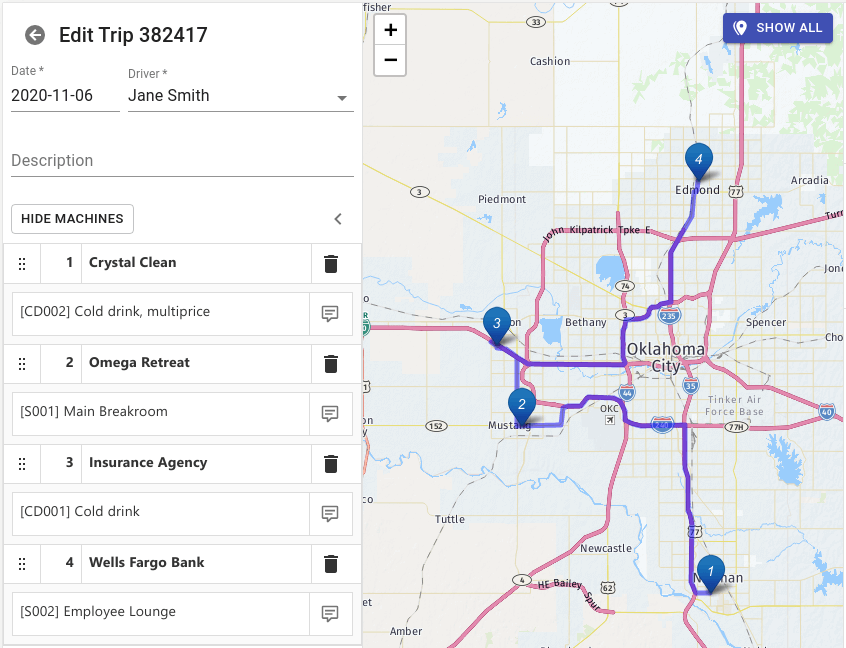 Inventory management
Optimize inventory and reduce costs by closely monitoring your product sell-in/sell-out history. Easily add, edit and remove as many products as you want. Do you have a large amount of inventory? No need to waste time manually adding those: use VendSoft's template to upload them all at once!
Product levels and expiry dates

Track inventory levels and expiry dates at your warehouse and for each machine. Get detailed information about product unit cost, average cost, inventory value, adjust quantities and write off items at any time.

Product critical levels

Leverage VendSoft to monitor inventory critical levels each location and machine so that you always have the right mix of products available at the right time and never miss on a business opportunity. See at a glance the product items which stock levels are getting dangerously low in the "inventory to reorder" report.

Machines

VendSoft supports multiple machine types. Easily check servicing history by location or by machine. What's more, VendSoft will also put together procurement predictions based on historical data.

Commissions

Assign various types of commissions to each machine or per location. In the Reports tab, you can calculate with a single click the total amount due to the location owner.
Mobile app
Manage your vending operations anytime, anywhere. No need to have internet connection – collect data from the vending machines when on-site and automatically sync it with your VendSoft account once back in the office.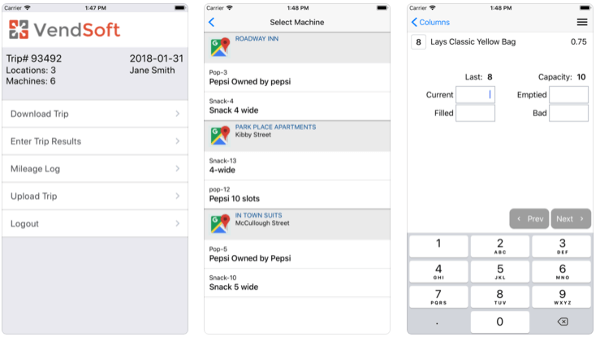 Telemetry
VendSoft supports integration with the leading telemetry providers to help you receive cashless payments and sales data in real-time.