Nayax
Please send us an email to support@vendsoft.com describing the type of telemetry devices (credit card readers) you have, and we will activate the telemetry functionality for your VendSoft account.
MDB data #
Step 1. Ask for new user roles #
Ask the Nayax support team to assign you the Transaction Dispatcher and Transactions Report Subscriber user roles.
Step 2. Configure the transaction dispatching #
In Nayax, open the Administration → Operator screen. Press Search and select your operator.
Open the Transactions Report tab
Check the Amazon SQS checkbox (under Transaction Dispatching)
Enter the Access Key and Secret Key which has been provided to you by VendSoft
Enter the following Queue URL: https://sqs.us-west-2.amazonaws.com/996427331889/nayax
Press the Validate button. You should see an "Amazon SQS validation: succeeded" message
Click on the Payment Methods field and select the payment methods (at least "Credit cards cashless" and "Cash")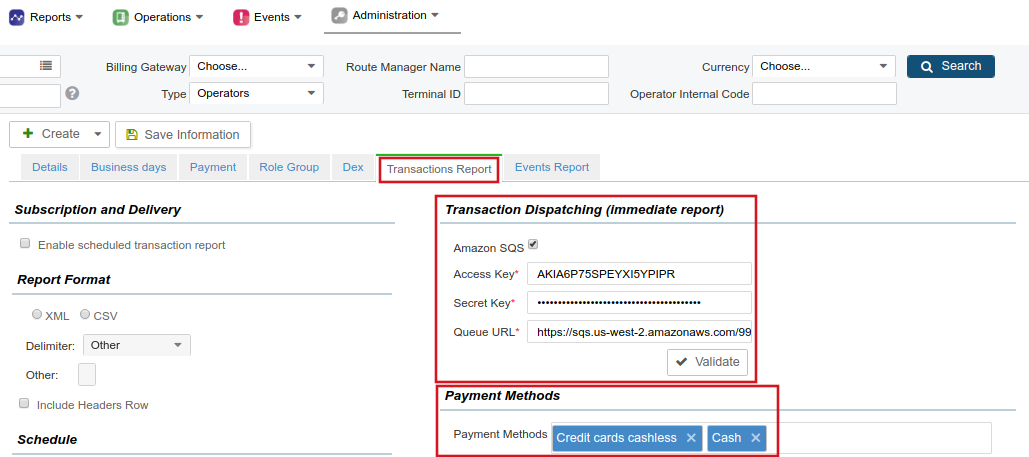 Select the following fields from the Transaction Information list:
Machine AuTime
SeValue
Extra Charge
Device Number
Payment Method Description
Card Last 4 Digits
Card First 4 Digits
Product PA Code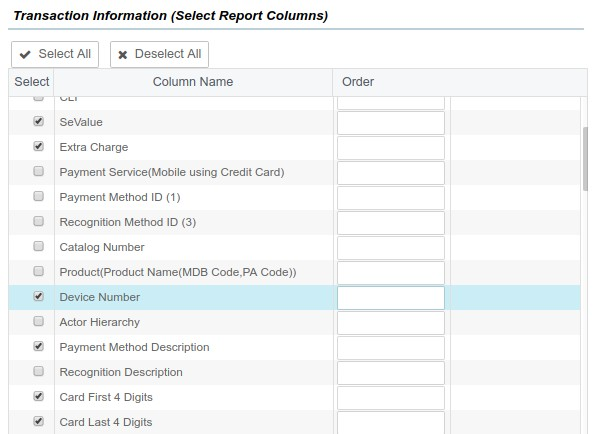 Press the Save Information button:

Step 3. Configure the Product Map #
In Nayax, open the Operations → Machines screen. Press Search and select your machine.
Open the Products Map tab.
Enter in the PA Code the value of the Column field in VendSoft. It could be equal to the MDB code.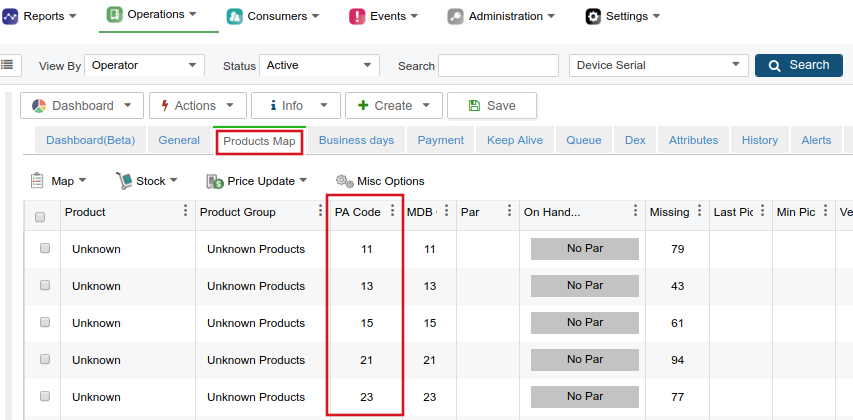 Step 4. Enter the Device Number in VendSoft #
In VendSoft open the Edit Machine screen and enter the Device Number of the Nayax device in the Telemetry ID field (including all the leading zeroes, if any):